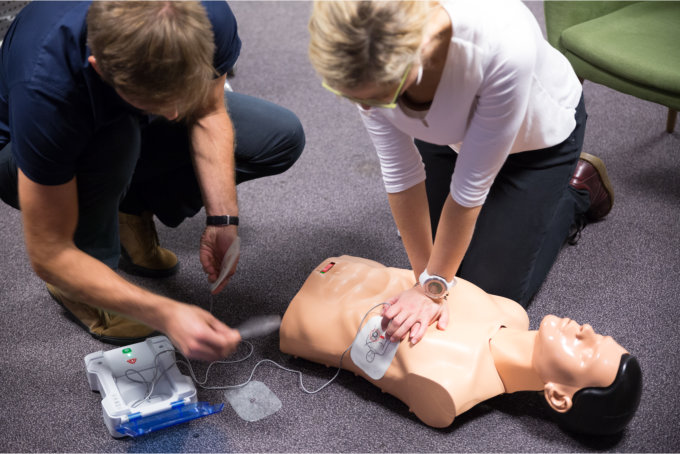 Sudden cardiac arrests are a common cause of death worldwide. Nearly 1 million people die every day worldwide due to sudden cardiac arrest (SCA). A large number of people experiencing sudden cardiac arrests include older adults. SCA contributes to the world's 15-20% of deaths. Specifically, individuals who have had heart-related issues in the past are more likely to get sudden cardiac arrest. Cardio Pulmonary Resuscitation is a therapy used to increase the survival chances of the injured person in SCA. AED (An automated External Defibrillator) device is used to provide chest compressions to people going through cardiac arrests.
The person experiencing sudden cardiac arrest should be immediately taken to emergency medical services (EMS) but in cardiac arrest situations each second counts. That's why the person should be given immediate CPR.
The rapidly increasing number of sudden cardiac arrests and heart attacks shows the importance of basic life support training courses. More often sudden cardiac arrests occur outside the hospital setting, in the absence of emergency medical services. In such conditions, people who have done BLS training courses can act as a lifesaver for the injured person.
A quick administration of Cardio Pulmonary Resuscitation (CPR) can increase the injured person's life chances significantly. Chest compressions are effective in restoring the heart rhythms of the injured person. Automated External Defibrillators (AED) are devices used to provide effective chest compressions for cardiac arrest victims. AEDs are very effective in cases of chest compressions.
What is the Importance of AED?
Sudden cardiac arrests can happen to anyone, regardless of age, gender, time, or location. In most cases, older adults experience cardiac arrests but nowadays cardiac arrest is commonly seen in younger people as well.
The sudden cardiac arrests don't leave you with enough time to get the injured person back to normal life. Usually, the person's heart stops pumping blood and oxygen to the body parts. This leads to the death of the person's brain and heart.
Providing the injured person with immediate CPR can keep the blood flowing in the body and keep the person alive until professional medical help arrives. CPR includes providing chest compressions and rescue breathing to the person experiencing cardiac arrest. Automated External Defibrillators can prove to be lifesaver devices in such medical emergencies.
Automated External Defibrillators (AED) are devices used to provide electric shocks to a person experiencing cardiac arrest. This shock can help to stop abnormal electrical impulses in the heart and allow it to return to a normal beating rhythm. The combination of CPR and AED use can literally bring a person back to life!
These shocks can help to prevent the irregular rhythm of the heart and bring it back to the normal beating rhythm. The usage of AEDs can make the CPR process more effective.
6 Benefits of Having AED in Saving Lives
Having AED at home is crucial as cardiac arrests can occur at any time to anyone. Hence, it is better to keep the AED device at home. Below are some benefits of having an AED device.
An automated external defibrillator increases the chances of survival by 75% in cases of cardiac arrests.
In case the injured person can't be taken to emergency medical services quickly, an untrained person can also use the AED device to give aid to the person.
AED device provides a fully automated life-saving emergency therapy and is operable by even a medically untrained person.
AED devices are fully automated, and portable, and can analyze the heart for shock rhythms while providing the right degree of shock. The device gives shocks automatically, and the rescuer does not need to press any button.
The AED has an inbuilt communication system that informs the rescuers to perform the necessary steps. Thus the rescuer can easily get to know what to do next and avoid any mistakes.
How to Choose the Best BLS Training Course in Frederick County?
Are you looking for the best CPR training course provider in Frederick County? If yes, your search is going to end here as at Comfikare CPR, we provide the best Basic life support training course at an affordable price. Comfikare CPR is an American Heart Association-certified organization that provides basic life support training courses in Frederick County.
We understand your busy schedule might not allow you to take out time for CPR classes but you need not worry as with trained medical professionals at Comfikare CPR, you can now learn the skills right in the comfort of your home. We also provide basic life support training courses to small groups, at their preferred time. Book your CPR classes in Frederick County, Maryland today and learn the essential life support skills along with getting certified.