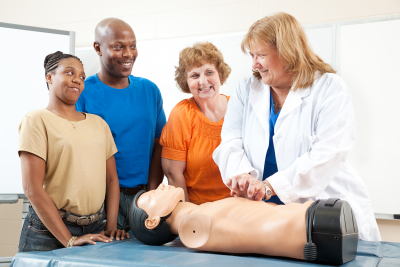 Comfi-Kare CPR is a provider of life support training in Gaithersburg, Maryland, covering basic, advanced, and pediatric life support. Basic life support training skills is a life-saving protocol that mainly focuses on restoring normal breathing by using CPR, rescue breathing, or AED. An individual with life support training skills recognizes cardiac emergencies or cardiac arrests that occur, mostly outside of hospital premises or at home. By learning basic life support training skills, you increase the chances of survival by providing high-quality chest compressions to the person having a cardiac arrest. Anyone, including health professionals, and public safety experts can learn the basic CPR technique.
Our Mission Statement
Our mission is to provide quality life support training to every level of healthcare provider and citizens. We strive to improve ourselves to designed training sessions specifically for healthcare workers and professionals, so each session consciously delivers the skills and knowledge they are looking for and required.
Our Vision Statement
We envision Comfi-Kare CPR to have a significant role in making the community more proactive when it comes to providing life-saving support. By doing so, we believe that we can help save more lives in the process and encourage more and more people to join classes so they, too, can become certified and prepared to give life-saving interventions and techniques in times of life-threatening situations.
Train for the Future, Train for Excellence
Enroll at Comfi-Kare CPR for your life support training today. Schedule an appointment for a more in-depth discussion of your needs. You may also send us a message here for your inquiries.