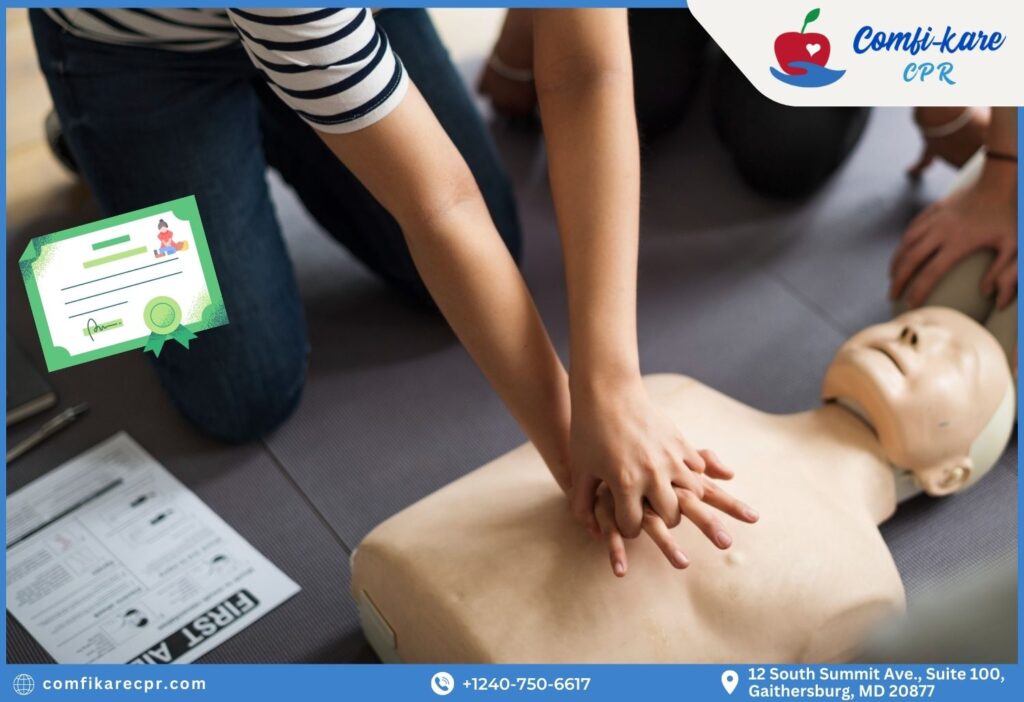 If you are from a non-medical background and are wondering whether you need CPR certification or not, you are at the right place. Apart from medical professionals, community workers and people working in the Department of public safety are always prone to meeting some medical emergency at any place. So, it is better to be ready to face a medical emergency at any point.
Here are the top 10 careers that can give you a major advantage if you attend CPR-Certified training classes.
10 careers That Demand CPR Certification:
Community Workers/Social Workers
Community workers, or social workers, work in various settings, mostly out-of-hospital settings. Therefore, they need to be prepared for any sort of emergency, major or minor, at any time, and this emergency situation includes cardiac arrest too.
Athletic or Fitness Trainers
Fitness trainers or coaches must have knowledge about heart diseases or factors interlinked that may cause cardiac arrest in athletes. As CPR increases the chances of survival, it is important that the trainers know the correct procedure for giving chest compression. 
Child Care Providers
If you work with children or have a profession related to child healthcare, the knowledge of PALS helps you act promptly during a medical emergency. It makes you stand out in the crowd and allows you to perform the correct way of performing CPR on children and infants. Adult CPR is very different from children's CPR; the PALS certification helps you know the right way.
Construction Workers
Construction sites are prone to higher accident risks. The working conditions are physically demanding, as they need to carry heavy cement or deal with heavy machinery. This makes them likely to have a cardiac arrest. Therefore, learning CPR will help you act immediately until medical emergencies arrive.
Electricians
They have a high risk of cardiac arrest as they work in hazardous environments with high temperatures that cause electric shocks, fires, explosions, and so forth. With CPR certification, an individual working in such a hazardous environment is able to act promptly.
Security Guards and Lifeguards
Guards have various duties, including patrolling at night or keeping surveillance to avoid any mishaps. Therefore, if any medical emergency occurs, they must have proper knowledge of how to deal with serious medical situations, including cardiac arrest. It is their duty to maintain peace and a safe environment for all individuals and employees. So, what could be better than getting a CPR certificate at an affordable rate?
Guardhouse or Personnel working at Detention Centers
Like other guards, prison guards also have to be mindful about the surveillance while supervising the activities of inmates, and enforcing rules to maintain discipline in the centers. A lack of discipline and fights may cause cardiac emergencies inside the premises. Therefore, the proper knowledge of CPR is essential at times.
Flight Attendants
Whenever any medical emergency occurs on a flight, flight attendants and crew members are on board to deal with the situation. Therefore, having a CPR course helps them to know how to use AED equipment and give effective chest compressions.
School Teacher/ School Staff
Children are prone to injuries, including choking and cardiac arrest. Therefore, adequate knowledge of CPR and Basic First Aid comes in handy at the time of a medical emergency. As the staff and teachers are responsible for dealing with school medical emergencies, CPR courses are a boon to them.
Medical Students
If you are a medical intern and looking for some ways to stand out in the crowd, getting a CPR course is the best option. The CPR certificate will help students and medical professionals act promptly during medical emergencies, anywhere and anytime.
Get Your CPR Certification Now!
Now, get your CPR certification at quite an affordable rate with Comfikare CPR right away. The experts are also available to train small groups at your preferred locations. The American Heart Association-certified-Comfikare CPR provides CPR certification and its renewal.
For more information about the CPR-certified training classes and how we can help you with the CPR recertification, contact us.